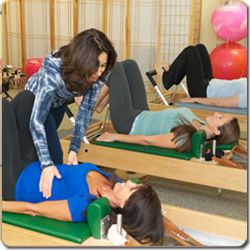 Become a Pilates Instructor: Teacher Training Program
This is a five weekend complete comprehensive Teacher Training program offered by Kevin Bowen and Dianne Rose. Click here for PDF with more information or to download as a zip file.
View or download Pilates Teacher Training Application
View or download Pilates Teacher Training Application Student Agreement
Rose Pilates is offering Pilates Teacher Training education for people who are interested in becoming certified Pilates Instructors. Or for those Pilates enthusiasts who want to have a more in depth training and understanding of the Pilates format.
This Teacher Training is based upon the long standing relationship with Michele Larsson's Core Dynamics Pilates. Pilates Miami will be offering Teacher Training under the name The Pilates Education Group, PEG.
Students are required to fill out an application for acceptance into the PEG Pilates Teacher Training Program, and consult with Dianne Rose to apply for the Teacher Training Program.
Dianne Rose will be assistant teaching this program with Kevin.